Study Abroad and Field School Programs
---
Exploring Peruvian Cultural Diversity in the Andean Highlands – July 9-July 31, 2020
Contact: Dr. B. Blakely Brooks
Ever wondered what it would be like to travel to South America? Curious to see first-hand the diverse cultures of Peru? Maybe you are interested in participating in a cultural anthropology field school? Peru is home to a wide variety of ecological and social environments, which create a tremendous amount of cultural diversity within the country. Students will have the opportunity for Andean highland cultural immersion through working on collaborative community works projects, visiting remote Andean highland communities, and conducting ethnographic fieldwork.. Join us as we travel through Peru to Lima and Huaraz to see the patterns of culture found throughout the Andes mountains. Our 23-day journey will take us to archaeological sites, highland communities where we will participate in community works projects, local farms, and national museums.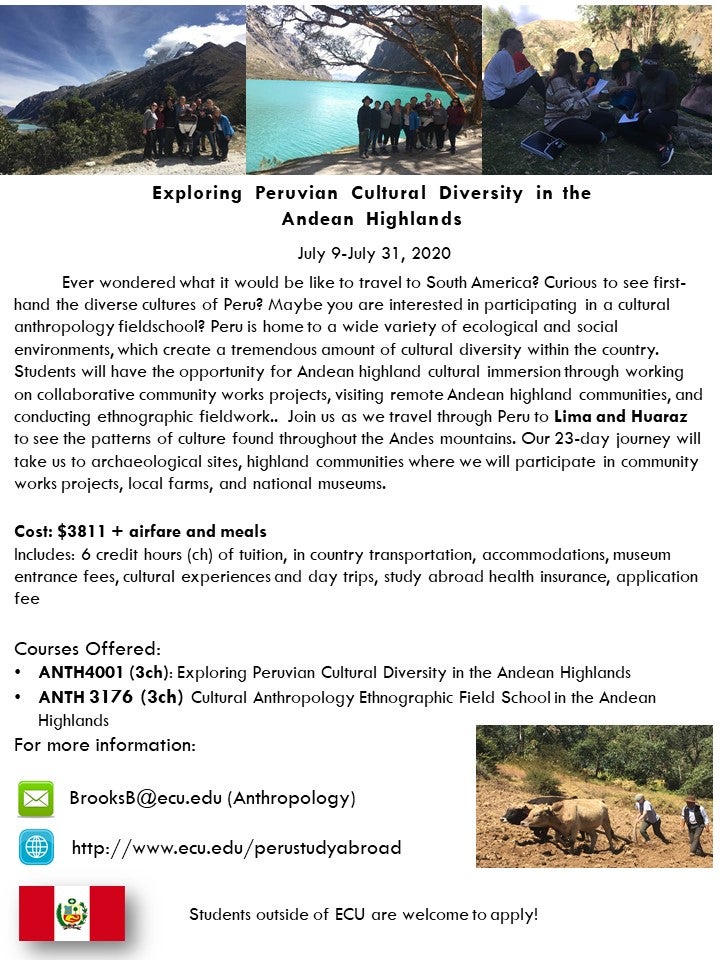 .
---
Dig at Colonial Tavern! – Field School in Historical Archaeology Brunswick Town State Historic Site: May 18-June 22, 2020
Contact: Dr. Charles Ewen
---
Balinese Ethnoprimatology Field Project: May 18-June 5, 2020
Interested in anthropology, biology, and environmental studies? Join us in Bali, Indonesia as we explore the interconnections between long-tailed macaques (Macaca fascicularis), tourists, and the Balinese people at the Ubud Sacred Monkey Forest. Students will develop their skills in primatology and cultural anthropology while learning local customs and engaging in cultural activities. Living with a Balinese family completes this truly immersive experience.
Contact: Dr. James E. Loudon